This article covers answers to any doubt and concerns when deciding about a product update including an perspective on the data, functions, timing, access and payment.
What are the features of the new version 4?
New state-of-the-art design
New exports with better data
Location selector in the main navigation

Working all location with two clicks

Monthly planning
Additional error flags
Restructured staff profile with better overview
Request absences via user profile
Working Time Account (Premium Plan)
60 or 90 days log (Professional und Premium)
Enhanced functionalities within the schedule

Deadlined swap requests
Deactivation of application process
Self-assign with deadline
Self-remove with deadline
Schedule zoom and turn off weekdays

Future updates to our product only available on V4
1. Which version am I working with?
If your web-app interface appears to be grey toned with a black navigation bar, then you are most probably working with old Staffomatic. Click help and feedback (?) and read black on white. Also, the URL of your browser should show your company name and staffomaticapp.com.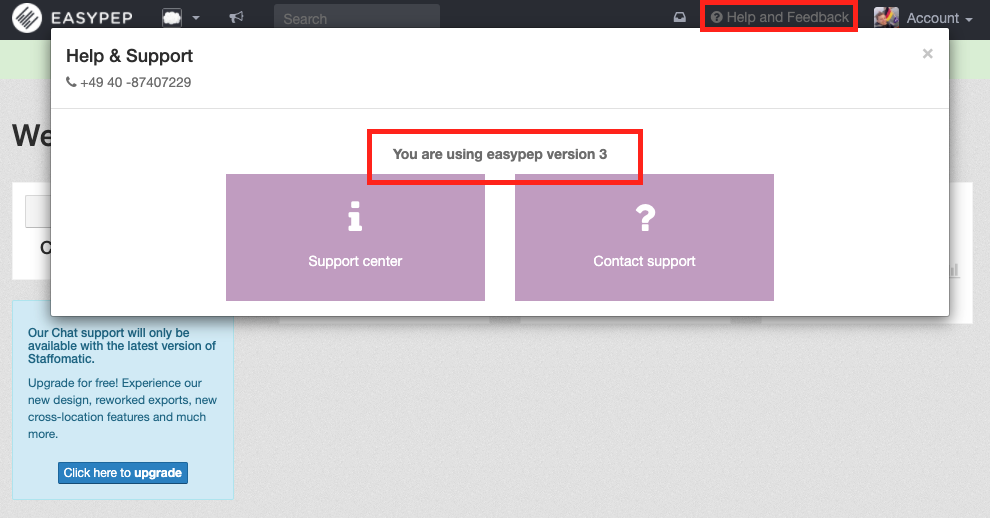 On the other hand, finding your app in rather blueish tones with modern design, state of the art, you are already using the new version.
If you are not so sure, then click your profile picture / initials and help. A pop up window will state the current version number.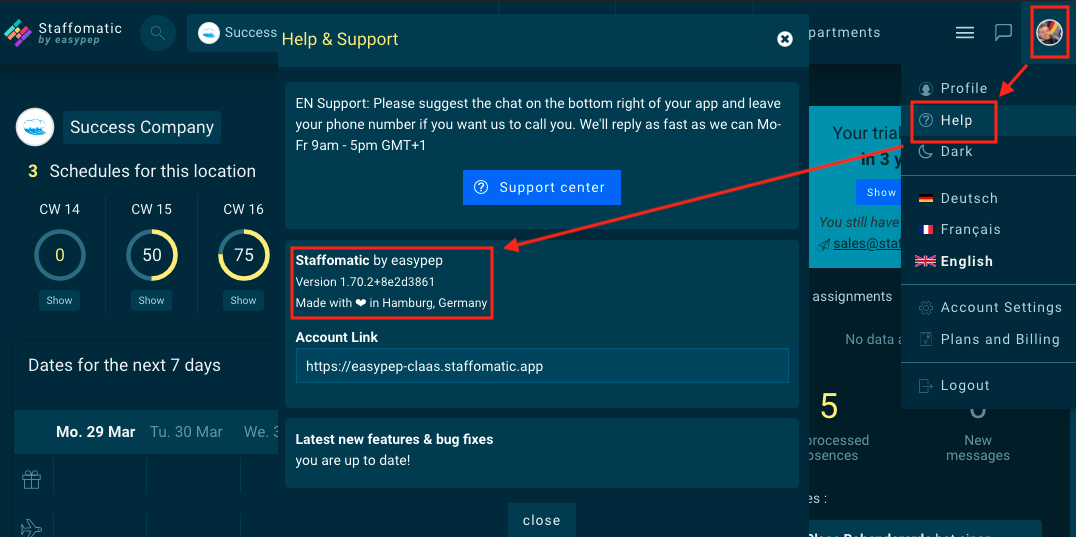 Note
When you just tested the new version, e.g. clicked the unicorn icon in the old version, then e-mails will arrive old style as well as exports and lower performance.
If that is the case, just replace the URL link from staffomatic.app to staffomaticapp.com. In the old version will be a banner with a migration button to finally update your account also in the databank.
2. All in one breve chapter
By updating the interface there aren't any obligations and financial cost coming along
You can return to the old version any time. The databank is the same, only the URL changes. Hence, no data can get lost.
Bookmarked links will not work anymore / forward to the new version.
The new version brings improved exports, fresh design, eased all location working and many more useful functionalities not available in the old version.
Time tracking is optimized only for Staffomatic V4.
The new working time account is available with the premium plan.
3. When do we have to change?
The earlier you switch, the earlier you can profit from the advantages of our latest web-app. We foresee 2022 the last year of old Staffomatic version 3 as hosting both versions adds cost to all customers and focusing on just one product will benefit all customers too.
Caution.
Our old version 3 is going to be deactivated soon. Already now, there is no more chat support and no more new features in this version.
💡 Maybe, due to Covid, there is less activity within your account- the perfect moment to switch. You can use time effectively to prepare yourself and your team for working with the new surface when business is back on.💡
4. All about data, schedules, absences, timers etc.
All your data of the old version is already available in the new version.
The two versions are working parallel. Hence, you can access your data also in version 4 and vice versa. Accordingly, all your schedules, templates, timers, absences and staff are already awaiting you in the new version.
Note
The databank is exactly the same as in version three, no data can get lost. The web-app is only the gateway which, in the new version, is using a new URL in order to access the same data as does the old version and old URL.
5. Staff, access and logins
The Terminal app as well as the staff app are not affected by the update!
When your account is switched all staff will be automatically forwarded from the old to the new version.
Caution!
V3 bookmarks might not work when changed to version 4.
Bookmarks and other saved links should be regenerated in the new version to avoid work lag through rerooting.
E-Mail notifications will arrive in new design and the links will be connected to the new version.
Recovering your account with your E-Mail address works anytime: Click here!
6. Subscription Plan / Payment
It is not necessary to adjust your subscription in order to be able updating Staffomatic. Only new features are restricted to our latest plans, which can be found here.
Using older subscriptions can result in upgrade suggestion notifications within the web-app, but please do not get irritated, all functions you were able to use in V3 remain in the new Staffomatic version 4.
7. Continue with the old version / back to the old version
If you changed to the new version, it is still possible to use the old one.
Just exchange staffomatic.app with staffomaticapp.com. There might be notes asking you to redirect to the new version, but you can x them out.
Caution!
It is the best choice to start getting comfortable with the new app as soon as possible, since the old version will be deactivated soon and all accounts will be redirected to the new version. Already now there is no more chat support and also no more developments for the old version.
Note
You are facing trouble using the new version, you don't want to change?
Well, on the long run this might be problematic, but let's talk things through. Please get in touch with us :)