An employee leaves the company (temporarily) and should no longer have access to the data or should no longer be billed.
1. General
2. Locked users
3. Necessary exports for data backup
4. Deletion
1. General
At Staffomatic, an invoice is generated according to the number of users created. Therefore it makes sense to reduce the number of locked or inactive users.
Monthly billing: On the invoice due date the system checks how many users have been created. An invoice in generated based on the number of users that exist in the system at that time.
Annual billing: The system looks at how many users are in the system at the time of billing. This represents the quota. Each additional employee increases the quota and an additional invoice is created. A 10% discount is given for loyalty. However, this does not allow crediting when users are deleted.
2. Locked users (Professional, Premium and Enterprise subscriptions)
You can lock users by clicking the yellow 'lock employee' button in their profile: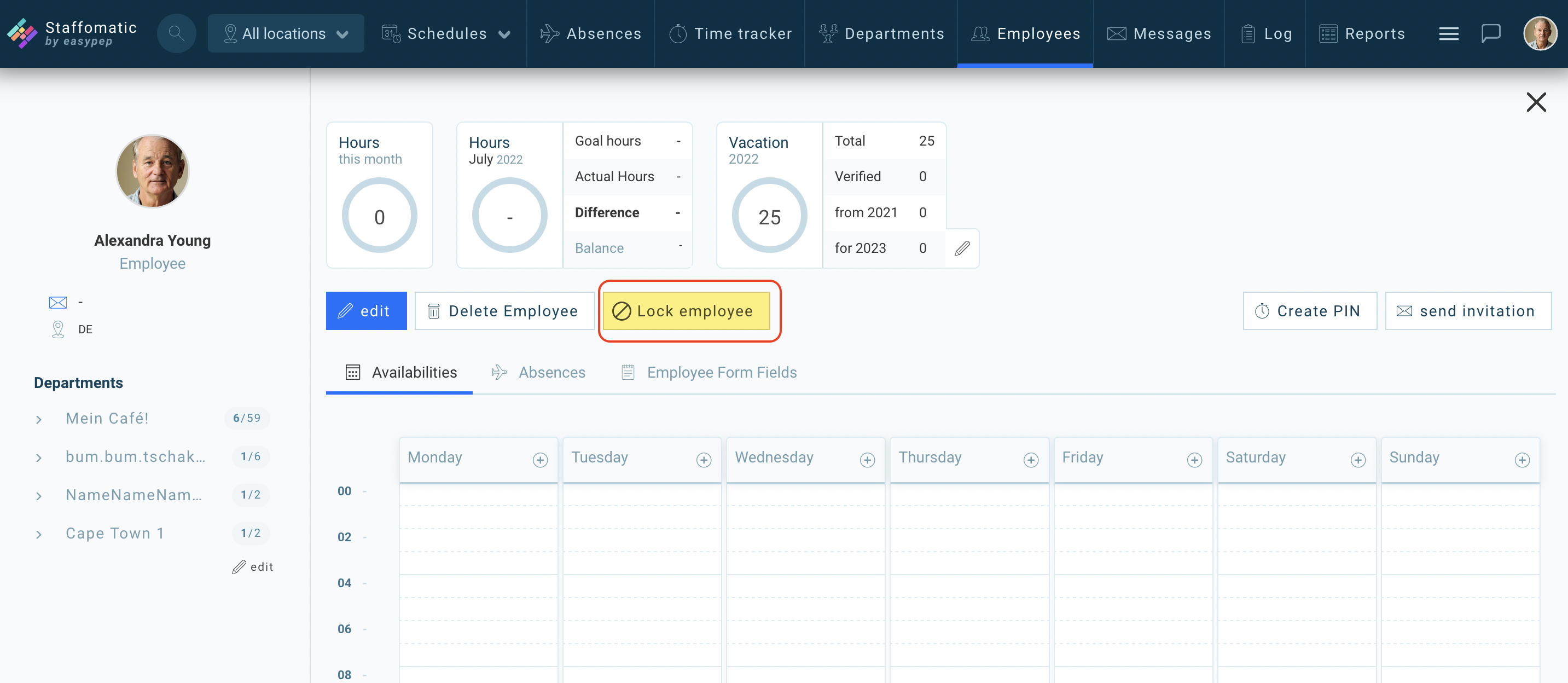 In our new plans, the system invoices all employee profiles that are created in the account - regardless of whether they are locked or not. Even locked profiles are invoiced, as the users' data is kept and effectively server costs are incurred.
You can find a summary of our new plans here.
Before an employee profile is locked, we always recommend saving or exporting all relevant data at this point.
Staffomatic only provides the system and is not responsible for employers' compliance with legal verification requirements.
If an employee profile has been locked, the employee no longer has access to the Staffomatic profile and can no longer log in with the login data. This also means that the locked employee profile can only be found using the "locked" filter.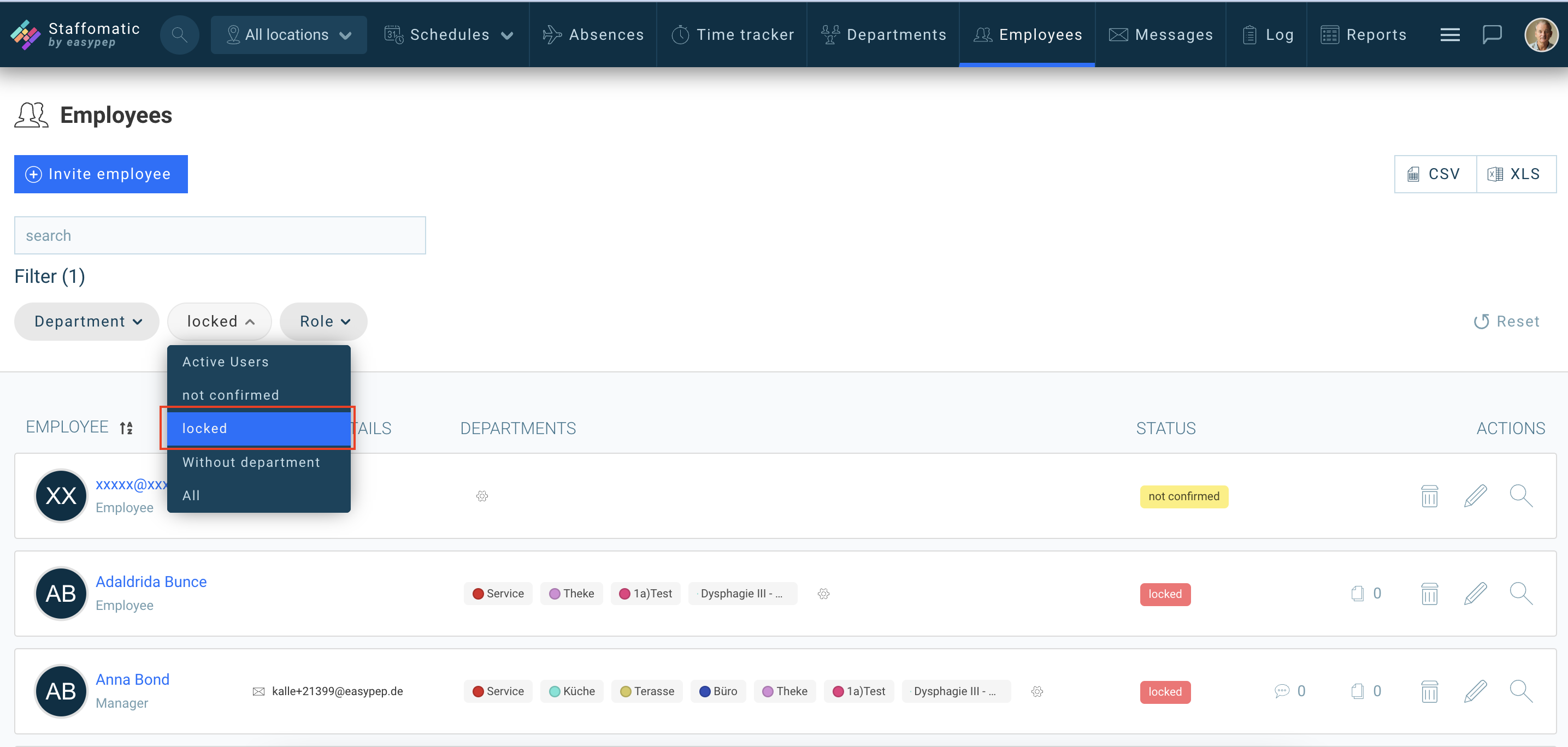 Here the user can be unlocked, which is necessary if the user is to be scheduled again or exports are to be made.
3. Necessary exports for data backup
Under the "Reports" tab you can export all assignments and absences of your employees in CSV and XLS formats.
Here a user is selected and the time filter is adjusted to the duration of the employment. The search covers all existing work assignments and absences, deleted entries can no longer be retrieved.
If time tracking has been used, this data can be exported in CSV and XLS formats under "Time tracker" > "Tracked times".
If a working time account has also been kept as part of the Premium subscription, the results can be exported in CSV and XLS formats under the "Working time accounts" tab > Subitem: "Working time accounts".
Data from the working time account is only displayed, if the WTA setting of the employee profile is "active".
The detailed view must be exported individually per month.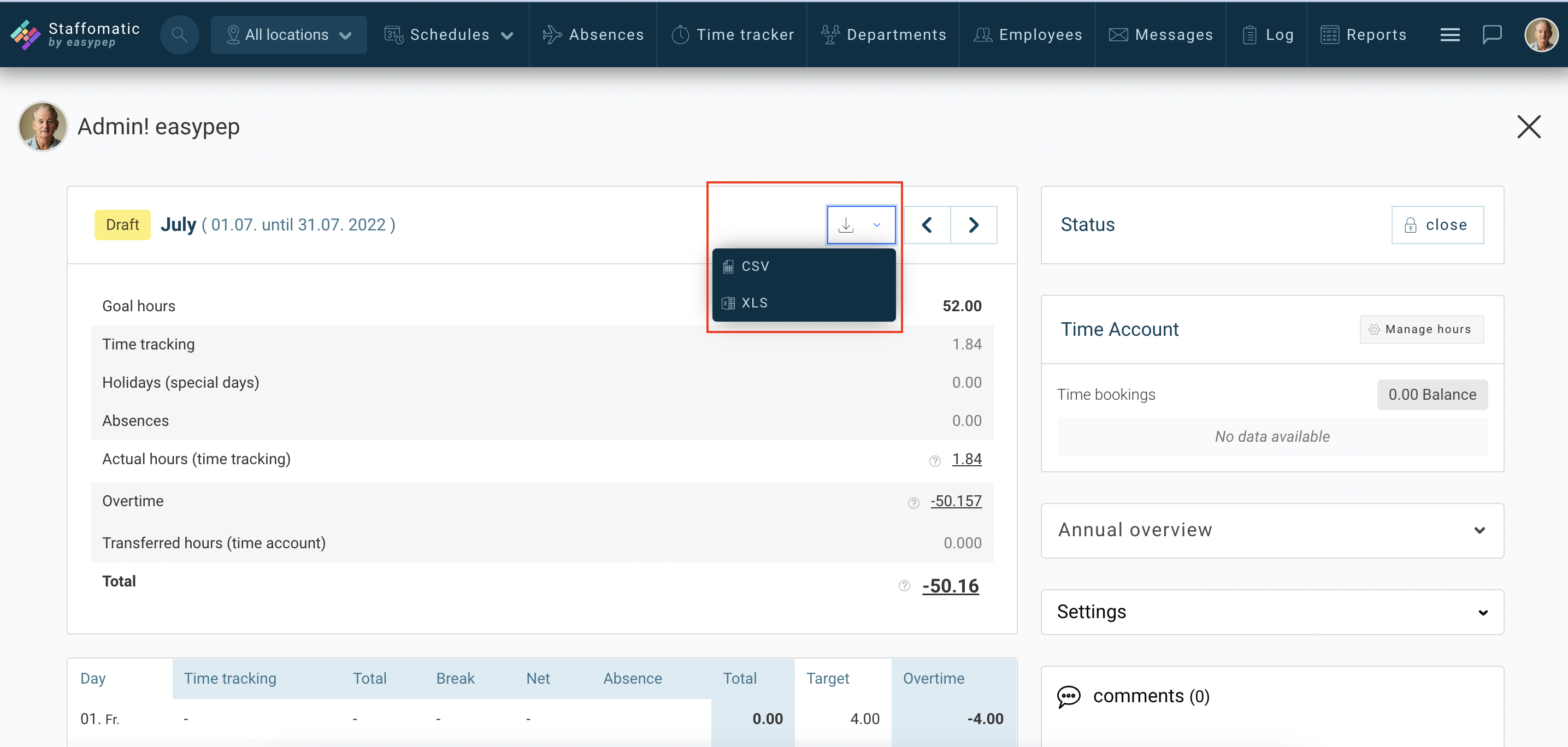 In addition, all employee data can be exported from the employee profiles under the "Employees" tab in CSV and XLS formats. This data can only be exported bundled (e.g. all "Active" or "Locked") in CSV and XLS formats.
Brief overview of export options:
- 'Reports' tab = assignments and absences
- Tab 'Time tracker' = tracked times
- Tab 'Working time account' = Recorded overtime and undertime
- 'Employee' tab = Employee data
4. Deletion of a user
If profiles are not to be billed, they must be deleted and not just locked. You will find this hint every time you move the mouse over the 'Lock' button.
Deleting REALLY deletes all data irrevocably!
If, for example, an employee is deleted and later recreated, all work assignments and time records will not suddenly reappear. All data related to the user will be deleted, including working time accounts, absences or related departments.

Click on the employee and click on the white button "Delete employee" and confirm the question if you are sure with "yes". That's it, the user is gone.