The Terminal - Staffomatic All about the terminal app by EASYPEP Claas Babendererde
Precondition for the app is the time-tracking feature of the starter plan. If you haven't got the feature yet you may apply for a trial- just ask us for it. It will add to your plan from 1,80€ per employee.
Download
Setting
Account
Use
App-Store / Play-Store
In order to use the terminal app you require a mobile device with the Apple app store or Google's play store for Android systems. Please make sure to update the system and the app to the latest version. You will find it under "Terminal-Staffomatic".
Screenshot App-Store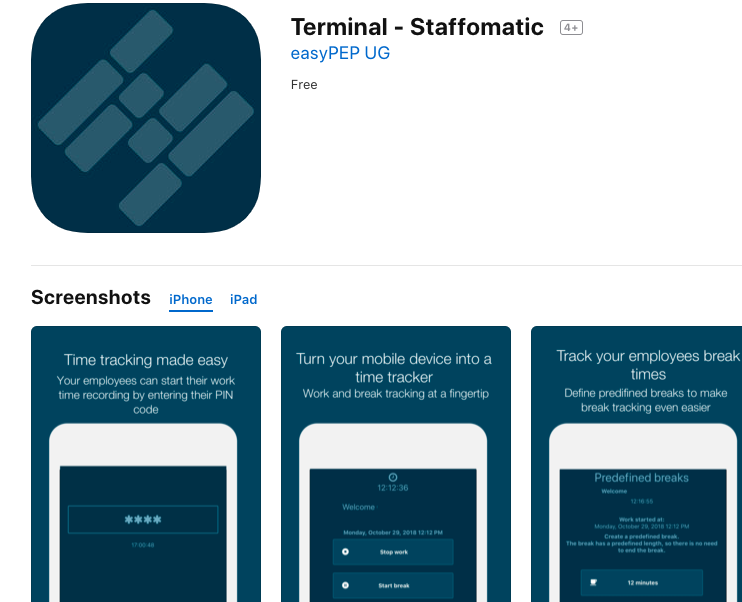 Screenshot Play-Store
You will have to download the app and install it. Any questions here then write or call us without hesitation. The technical requirements are 6.0 for Android or 9.0 for iOS devices.
Who needs the app?
Most frequently each location needs a tablet or mobile phone deployed as digital clock. If this is not possible, you might allow only managers and admins to use their devices, or even more trustful you can log-in the terminal app on each employee's device. Each digitally tracked time will have to be validated by a admin or manager, therefor even the last version has its safety net.
You can also start the terminal from your admin account in the browser on any computer. Klick on "time tracker" and then on the blue button "open terminal". Important now for safety reason: Log out of your account after opening the new window with the terminal, and log in the terminal with your account and password. Best advice would be to save the terminal link on the computer so you access it right away.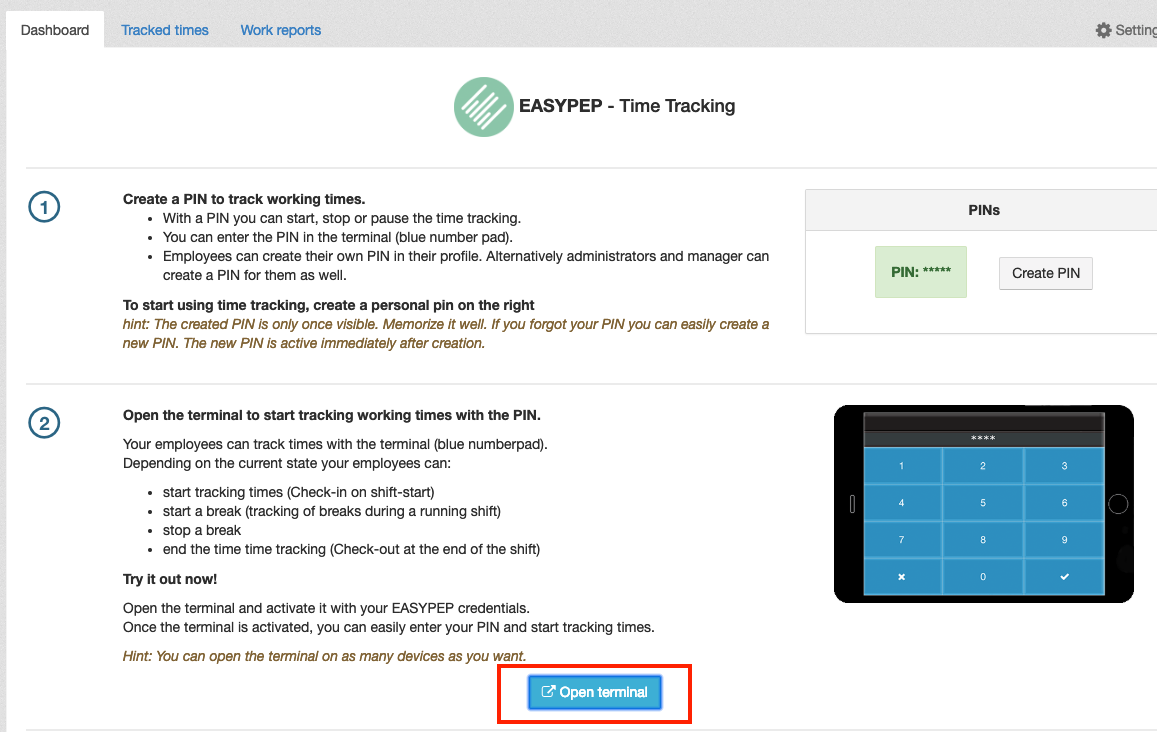 How does it work with the account?
The terminal app requires the log-in of an administrator. In the new version also manager can receive the terminal rights by the administrator.
>>The log-ins of employees do not work in the terminal app!<<
Don't worry: Employees cannot see or edit any account details because the terminal app is a separate one in order to save sensible data. Once logged in the terminal app stays active until actively being logged out.

Use of the app
Employees will create a personal pin on their account and remember it. They go to work, open the terminal and insert their pin and confirm. On the following page they find options to start tracking, take predefined breaks, start or end breaks as well as stop tracking. After a short moment the terminal always switches back to the pin site and a new employee can use the terminal. Admins and managers can edit e.g. rounding of tracked time or linkings to shifts and their breaks among others. More details you may find here:

We would be happy to find your ratings in the app- or play store!
Did this answer your question?